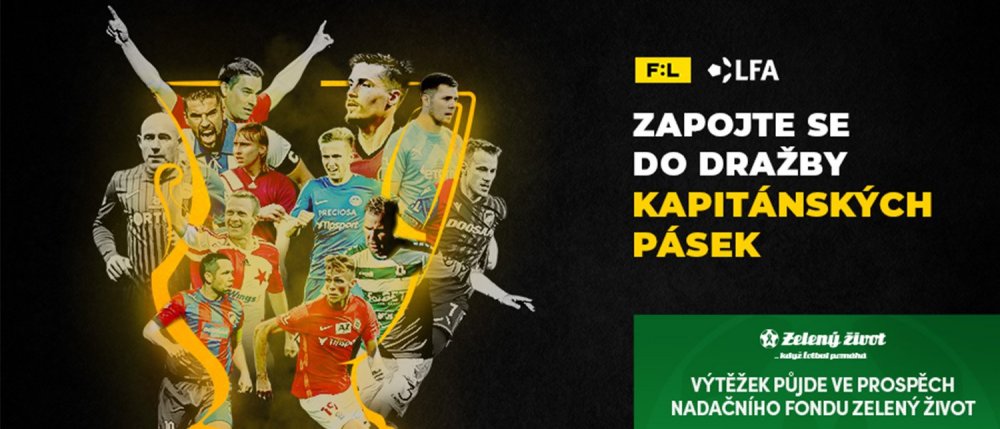 pátek 12.05.2023
Auction off captain's armbands and support the Green Life Foundation
Auction off captain's armbands and support the Green Life Foundation
pátek 12.05.2023
The regular part of FORTUNA:LIGA culminated in the final 30th round, during which the League Football Association and the clubs celebrated the 30th anniversary season of the independent Czech top football competition. The captains of all sixteen FORTUNA:LIGA teams entered the match with a special captain's armband. Now the fans have an opportunity to bid for these unique armbands in a charity auction.
The auction of the original and signed captain's armbands, with which the captains of all sixteen FORTUNA:LIGA teams entered the matches of the 30th league round of the 2022/23 season, has already started on the special auction website.
The armbands have a special design to celebrate the 30th anniversary season of the independent Czech football league and were signed by the respective players after the matches. For example, you can get the captain's armbands of Slavia Prague player Tomáš Holeš, Filip Panák from Sparta Prague, Pilsen midfielder Lukáš Kalvach, best league goalscorer so far Jakub Řezníček or Bohemians icon Josef Jindřiška and other league stars.
"These are unique and limited collectibles and we believe that they will be of great interest to fans. The auction has a charitable overlap, as we will donate all the proceeds to our foundation, which supports children from socially disadvantaged families. The Green Life Foundation has supported more than twenty young footballers in the last period with a total amount of more than two hundred thousand crowns. Some of the children have been supported even repeatedly," said Daniel Hajný, LFA's Sales and Marketing Director, who also serves on the board of the Green Life Foundation. In the past, the LFA has also supported children of refugee families from Ukraine and other organisations through its endowment fund. "We will repeat the auction of captain's armbands during the 30th anniversary round of the FORTUNA:NATIONAL LEAGUE. We regularly hold charity auctions of valuable artefacts several times a year," added Daniel Hajný.
All proceeds from the charity auction of captain's armbands, which ends on Monday 15 May at 8pm, will go to the Green Life League Football Association Foundation.
Link to the auction - https://www.sportovniaukce.cz/homepage/auction/3319
More about the LFA Green Life Foundation - https://www.lfafotbal.cz/zeleny-zivot