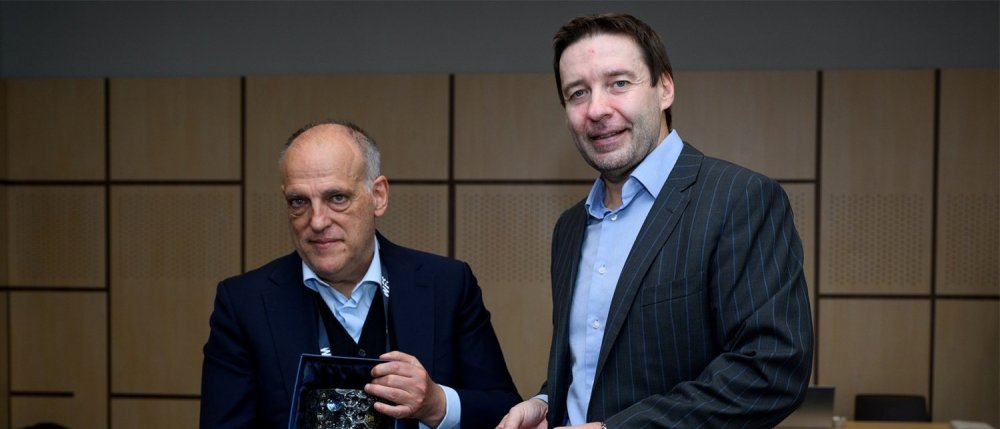 úterý 25.04.2023
LFA and LaLiga top officials met in Prague
LFA and LaLiga top officials met in Prague
úterý 25.04.2023
The President of the Spanish LaLiga Javier Tebas together with the Chairman of the Czech League Football Association Dusan Svoboda attended a pre-arranged meeting on the occasion of the European Leagues meeting organized by the LFA in Prague. The two top representatives of the professional competitions in Spain and the Czech Republic, in addition to the clear position of both associations against the possible creation of a Super League, discussed other topics on the future of European football. They also touched upon the idea of some joint projects.
"It was a pleasant informal meeting where we discussed a number of interesting topics and I believe that we will follow up on it in the future with joint projects at various levels. Javier Tebas is one of the strongest football officials in the world and we are honoured to welcome him to Prague," said Dušan Svoboda, chairman of the LFA, about the meeting.
Javier Tebas first delivered strong words against the interest of big clubs to establish their own super league at the international congress of the World Football Summit and then sat at the same table with Dusan Svoboda, chairman of the Czech League.
"Strong domestic leagues with opportunities to qualify for various levels of European competitions are of vital importance to the European football ecosystem. As LaLiga it is our privilege to share learnings from our story of growth and success with leagues around the world, including here in the Czech Republic," said Javier Tebas, president of Spain's La Liga, in Prague. "Without a successful national championship, football suffers. LaLiga always strives to be a fan´s second favourite league, after the domestic competition."
The meeting of the two leading representatives of the Czech and Spanish leagues was a continuation of the joint activities of the two competitions that have already taken place in previous seasons. "Currently, among other things, we are also linked by a common intention to prevent the creation of a European Super League, which would clearly pose a significant threat to the football structure on the whole continent and in the Czech Republic itself. We have found an unequivocal consensus in this respect and we unequivocally support Mr Tebas in this position. In the case of ice hockey, the second most popular sport in our country, we have seen for many years now the almost monopolistic position of the NHL, which has affected the entire ice hockey ecosystem. The national teams are restricted in their selection of the best players in each country, and the transfer market for players is also heavily influenced by the overseas league. All of this and certainly other negatives would bring the Super League to the world football," added Dušan Svoboda.
---
Fotografie