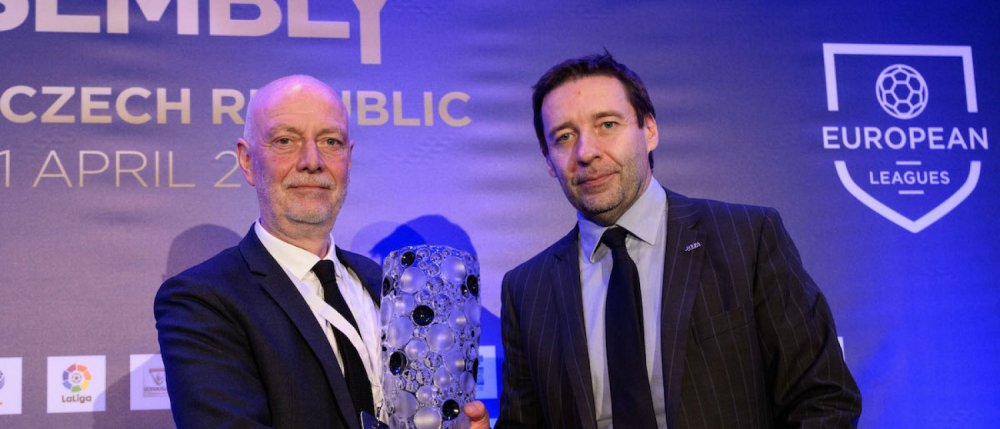 pátek 21.04.2023
LFA successfully organised the European Leagues General Assembly
LFA successfully organised the European Leagues General Assembly
pátek 21.04.2023
The 46th General Assembly of the European Leagues took place in Prague this week. The League Football Association had the opportunity to host representatives from all member football competitions across Europe along with representatives from other important football stakeholders. The event was also part of the celebration of 30 years of the independent Czech League.
On the agenda of the several days of meetings were all relevant issues of current club football on a global level, such as the threat of a so-called Super League, the future of the European club competitions in the next cycle starting with the 2024/25 season or international relations with UEFA, FIFA, FIFPRO, the EU and other governing bodies.

"We already know that from 2024 onwards there will be more participants in all European competitions and thus more dates in the football calendar. However, the most important topic of the meeting, which is also crucial for Czech club football, was the debate over the future revenue distribution from UEFA for participation in European cups. Both for the clubs that make it to the group stage and for those that do not participate in the European club competitions. These solidarity payments will be much more important in the future than they are today or in the recent past," said Dušan Svoboda, chairman of the LFA, on the specific points of the meeting.
The general assembly also included expert seminars focused on sustainability in football, analyses of the development of European football or discussions on joint projects that can benefit Czech club football in the future.
An integral part of the whole programme was also a gala evening in the Prague Castle Ball game room, at which, together with the representatives of the European Leagues, top representatives of the Czech league clubs, major sports and football authorities of the Czech Republic and representatives of the League Football Association celebrated the 30th anniversary of the independent Czech league.
---