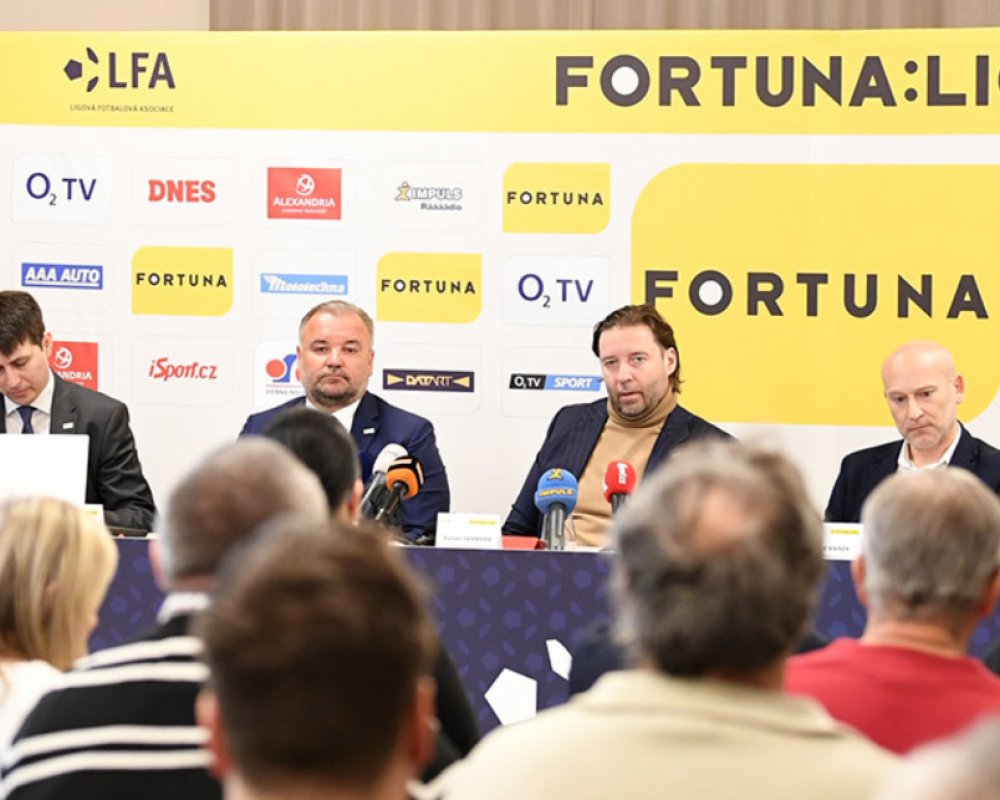 pondělí 24.02.2020
Czech Football Association extends Fortuna naming deal
Czech Football Association extends Fortuna naming deal
pondělí 24.02.2020
The Czech League Football Association has successfully completed negotiations with the general partner Fortuna on the premature extension of the contract to 2024. The betting company has held naming rights to both Czech football's top flight competitions since the 2018/19 campaign.
Czech professional football competitions will bear the names FORTUNA:LIGA and FORTUNA:NATIONAL LEAGUE respectively at least until 2024. Fortuna has been the general partner of the highest competition since 2018, but its connection with elite football in the Czech Republic goes back another two years earlier, when it has been named the second highest competition since the 2016/17 season. The original contract was dated to 2022, but the Czech League Football Association boasts an extension of two more competition years. "We are extremely proud that the general partner Fortuna is satisfied with our cooperation and we have agreed to extend the contract to 2024, including further expansion of joint projects. It is an important signal for professional football, which gives us the necessary guarantee for a longer period in which we can focus on the conceptual management of the two top football competitions," reminded Dušan Svoboda, chairman of the Czech League Football Association. These will continue in the spring. In the first rounds, spectators at all league stadiums await nice beanies and fans can look forward to a popular fanzone with a football shooting range at selected matches. "During the past seasons and especially last year, when we first named the highest competition in the country, we have gained a lot of experience that we decided to take into consideration flexibly. The update is now more in line with our wishes and needs. Last year we made 60 events for fans, gave them gifts for 5 million Czech crowns and got valuable feedback for that. By extending the contract for another two years, we have expanded the space to be able to further develop our intentions," said David Vaněk, CEO of Fortuna.
The new agreement with the general partner also includes a joint commitment to the further development of the VAR project. "Already in the rest of the actual season, the fifth game in each league round will be under the supervision of VAR, which we cover regardless of television at our own expense," promised Dušan Svoboda, saying that the Czech League Football Association will provide for such matches among other things normal streaming footage. "Based on the memorandum with the Czech FA, we want to find a solution for the complete VAR delegation to all FORTUNA:LEAGUE matches in the next season," Svoboda added.